October 9, 1972 Winterland Arena, San Francisco, Ca. (Mon)
Soundboard Master Reel > Cassette > DAT > CD (Paul Bottiglio and Matt Vernon Transfer)
1: Promised, Deal, Me & My Uncle, Tennessee Jed, B. T. Wind, FOTD, BIODTL, Loser, El Paso, Box Of Rain, China Cat> I Know You Rider, Mexicali, Sugaree, Playin
2: Jam*, He's Gone, Big River, Half Step, Greatest, Brokedown, Truckin> Other One> Wharf Rat, Sugar Magnolia, Casey Jones E: Johnny B. Goode
*with Grace Slick. first "Box Of Rain" - road crew benefit - also: NRPS

October 9, 1976 Oakland Coliseum Stadium, Oakland, Ca. (Sat)
Soundboard (via Grateful Dead Hour Pre-FM DAT)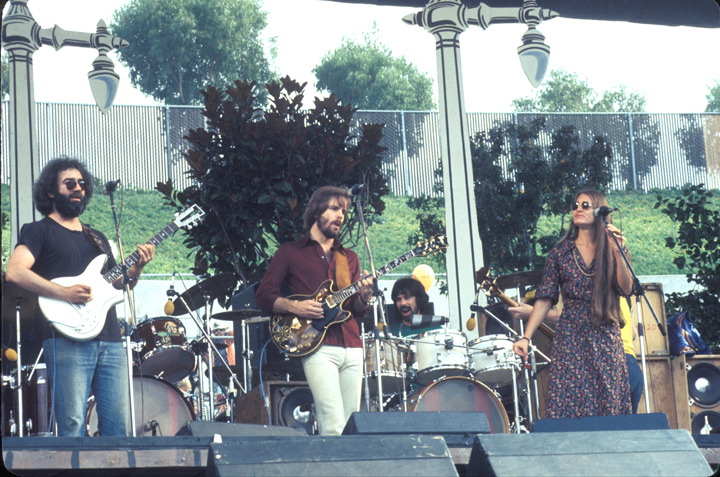 1: Promised, Half Step, Cassidy, Tennessee Jed, L. L. Rain, TLEO, Minglewood, Scarlet, Lazy Lightning> Supplication, Sugaree
2: St. Stephen> NFA> St. Stephen> Help> Slipknot> Drums> Samson> Slipknot> Franklin's> Saturday Night E: U. S. Blues
Soundboard released as released as Dick's Picks, Vol. 33. "Hitchcock Theme" tuning before "St. Stephen" - "Day On The Green #8" - billing: The Who; GD - 11:00 AM

October 9, 1977 McNichols Sports Arena, Denver, Co. (Sun)
Soundboard Master Reel > Cassette > DAT > CD (Charlie Miller Transfer)
1: Minglewood, TLEO, Cassidy, Dire Wolf, L. L. Rain, B. E. Women, Lazy Lightning> Supplication, Sugaree, Music
2: Samson, Scarlet> Fire, Estimated> He's Gone> Truckin> Drums> Terrapin> Around E: Casey Jones

October 9, 1980 Warfield Theater, San Francisco, Ca. (Thu)
Soundboard Master Reel > DAT > Cassette? (unknown transfer)
Acoustic: Dire Wolf, Dark Hollow, All Around This World, Cassidy, China Doll, On The Road Again, Bird Song, Race Is On, Ain't No Lie> Ripple
Electric-1: Stranger, FOTD, Mama Tried> Mexicali, Peggy-O, Rooster, B. E. Women, L. L. Rain, Tennessee Jed, Music
Electric-2: Alabama> Greatest, High Time, Sailor> Saint> Terrapin> Drumz> NFA> Wharf Rat> Sugar Magnolia E: Casey Jones

October 9, 1982 Frost Amphitheatre, Stanford U., Palo Alto, Ca. (Sat)
Soundboard Master Reel > PCM > (with audience patches ; T. Wiley Transfer)
1: Alabama> Greatest, TLEO, On The Road Again> BIODTL, West L. A., Me & My Uncle> Big River, Dupree's, Music> Deal
2: Throwing Stones> Touch, Estimated> Eyes> Drumz> Truckin> Other One> Morning Dew, Saturday Night E: U. S. Blues
October 9, 1983 Greensboro Coliseum, Greensboro, N.C. (Sun)
Audience Master Cassette (Sennheiser 421s ; Da Weez Tape ; D5Scott Transfer)
1: Shakedown> Samson, Peggy-O, Rooster, Candyman, Esau, Big RxR Blues, Let It Grow
2: Touch> Estimated> Eyes> Woman Smarter> Drumz> NFA> Sugar Magnolia E: Baby Blue
sound check: St. Stephen (3x))*
October 9, 1984 The Centrum, Worcester, Ma. (Tue)
Audience Master Cassette (Nakamichi 700s - front of board ; Steve Rolfe ; Charlie Miller Transfer)
1: Dancin, FOTD, Me & My Uncle> Mexicali, Althea, Esau, Big RxR Blues, Let It Grow
2: Help> Slipknot> Franklin's> Jack Straw, He's Gone> Smokestack> Drumz> Wheel> Throwing Stones> Stella Blue> Around> Johnny B. Goode E: Revolution
last "Smokestack": 03-22-72 [795] - "Revolution" for John Lennon's birthday
October 9, 1989 Hampton Coliseum, Hampton, Va. (Mon)
Soundboard DAT (Charlie Miller Transfer)
1: Stranger, Built To Last, Rooster, Ramble On, We Can Run, Jack A Roe, Memphis Blues, Row Jimmy, Music
2: Playin> Uncle John> Playin> Dark Star> Drumz> Death Don't> Mr. Fantasy> Hey Jude Finale> Throwing Stones> Good Lovin E: Attics
"Stranger" appears on "Without A Net" - last "Dark Star": 07-13-84 [359] - last "Attics": 10-28-72 [1082] - Show billed as "Formerly The Warlocks"
October 9, 1994 USAir Arena, Landover, Md. (Sun)
Soundboard Cassette(x3) (Charlie Miller Transfer)
1: Bucket, Bertha, Spoonful, Stagger Lee, Broken Arrow, Me & My Uncle@> Big River@, So Many Roads, Promised
2: H. C. Sunshine, Samson, Way To Go, Ship Of Fools, Saint> Drumz> Miracle> Comes A Time> Throwing Stones> Lovelight E: Rain
final/last "Comes A Time": 03-27-93 [127] - venue used to be called "Capital Centre" - Rex Foundation benefit
PhishShows on these days in History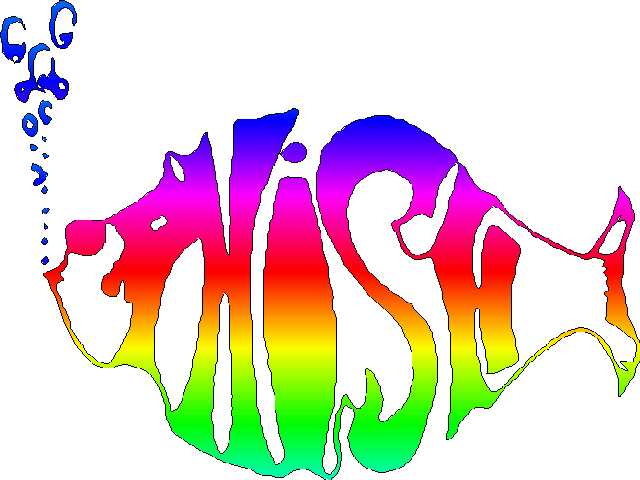 Phish Setlists provided by Phish.net. Phish Stats from ZZYZX. Audio from Phishows.com
October 9, 1994 A. J. Palumbo Center, Pittsburgh, Pa. (Sun)
No Source Information
Set 1: Runaway Jim, Foam, Fast Enough for You > The Curtain > Dog Faced Boy > Split Open and Melt, The Squirming Coil
Set 2: David Bowie, Bouncing Around the Room, Scent of a Mule, You Enjoy Myself, Amazing Grace[1], Julius > Contact > Possum[2]
Encore: Sleeping Monkey > Poor Heart
[1] Without microphones.
[2] Contact teases.
Notes: Amazing Grace was performed without microphones. Possum contained Contact teases. This version of Coil appears on A Live One.

October 9, 1999 Pepsi Arena, Albany, N.Y. (Sat)
No Source Information
Set 1: Punch You In the Eye > Wilson, Guyute, Ghost -> My Left Toe -> Free, Sparkle > Possum
Set 2: Limb By Limb > Also Sprach Zarathustra[1] > Down with Disease > Wading in the Velvet Sea, Simple, Loving Cup
Encore: Slave to the Traffic Light
[1] Part of the 2001 jam featured Trey on keys.
Notes: Part of the 2001 jam featured Trey on keys.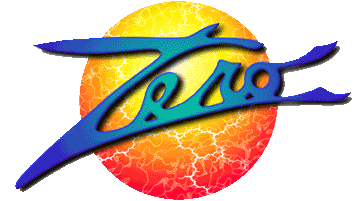 Setlists provided by Setlist.com. Audio from Zero on Archive.org and Steve Kimock Band on Archive.org
and KVHW on Archive.org
October 9, 1997 Zero: House of Blues - Lake Buena Vista, Fl. (Thu)
Audience DAT (Microtech-Gefell M300s - on stage ; Brian Abramson Tape ; Charlie Miller Transfer)
Set 1: Pits of Thunder, Friday's Child, Anorexia, Roll Me Over, The Shape I'm In, Sun Sun Sun > Love Supreme Jam > Sun Sun Sun
Set 2: Tongue 'n' Groove > Tangled Hangers, Possession, Richie's Rooster, Golden Road, E: Mercury Blues